The Author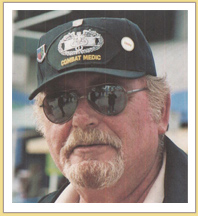 DAVID H. PFEIFER, born and raised in Flint, Michigan moved to California in 1967. Worked for his uncle at a Buick dealership as a mechanic. Was drafted into the army and sent to Vietnam, returned to
California, and attended CalPoly Technic Pomona College. Worked as a med tech and a nurse until 1993. Was married and divorced. Then worked as a handyman until 2000 and went to the VA in Long Beach, CA. To discover he had PTSD. Attends group therapy to this day.
Mr. Pfeifer was awarded the Bronze Star, Army commendations with
"V" for valor and cluster to denote two awards of same medal, also the
Air medal, the Good conduct medal, and the Combat Medics Badge to
mention but a few.